Thursday, November 24th
09:00 – 09:30   

    General Assembly – SDDN Association
09:30 – 10:00

        Welcome and Presentation of the XIV SDDN Meeting
11:00 – 11:30

           Coffee Break
14:30 – 15:30
Lunch 
17:30 – 20:00

         Poster Session & Exhibitors
20:30   

                    Conference Dinner
Friday, November 25th
11:00 – 12:30

           Poster Session & Exhibitors 
12:30 – 13:00

          Oral presentations of selected posters
14:30 – 15:00

          Concluding remarks & announcement of SDDN 2023 meeting 
15:00                       

Lunch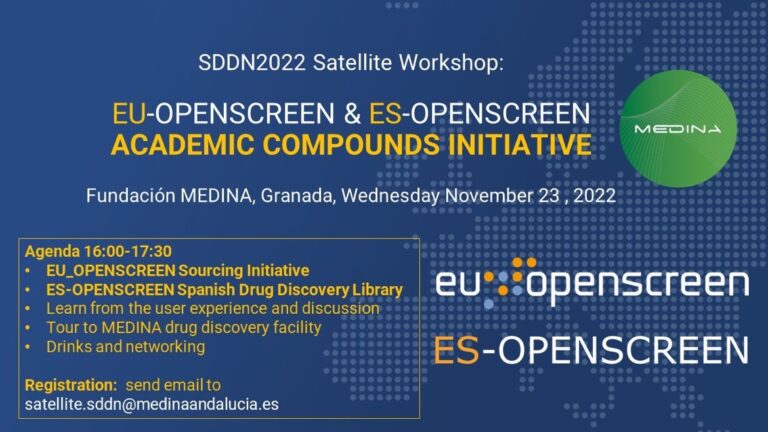 SDDN2022 Satelite Workshop
Interested in new compound library initiatives? Register to the satellite workshop organized by Fundacion MEDINA on November 23 to present the EU-OPENSCREEN and ES-OpenScreen compound sourcing initiatives in Spain, side by side to the SDDN2022 conference.
The workshop is directed to synthetic and natural products chemists interested in submitting their molecules to these new libraries and enabling their bioprofiling and screening to reveal novel biological activities.
Please register to join us and send an email to satellite.sddn@medinaandalucia.es to confirm your attendance. Thank you!!
Scientific and Organizing Committee
Olga Genilloud (Fundación MEDINA), Ana Martinez (CSIC), Emilio Díez (e10bio), Jorge Beleta (SDDN), Marie-Hélène Larraufie (Almirall), Tamara Martinez (Sylentis), Domingo Gargallo (ABAC Therapeutics), Francesc Mitjans (Leitat), Julio Martin (Sciengement Lab Consulting), Jordi Quintana (Chemotargets). Gijs Jochems (Promega)

Organised by SDDN in collaboration with Fundacion Medina
FUNDACIÓN CENTRO DE EXCELENCIA EN INVESTIGACIÓN DE MEDICAMENTOS INNOVADORES EN ANDALUCÍA
AVENIDA DEL CONOCIMIENTO 34, 18016 ARMILLA
CIF G18889444